Guide to Owning Your Own Lodge
Deciding to buy your own luxury lodge can be an exciting step to take. Finding the right layout, style and location are all equally important. A popular solution with many is to buy a lodge as they offer a comfortable escape from day to day life.
Here at Moss Bank Country Lodges our blog this month takes a look at lodges and gives you a guide of things to do when buying your own.
About Lodges
Living or staying in lodges has been popular in the UK for hundreds of years. However, in more recent years, they have become a popular way of enjoying a holiday. There are several different names, makes and models around which make the whole process of choosing a lodge difficult. Each site will have its own stock and every lodge will have its own fittings, fixtures and sizes.
Lodges are built to BS 3632 (British Standard) or BS EN 1647 to ensure safety and security at all times. The former refers to a full residential specification and allows you to use the dwelling for 12 months as a second or holiday home. The latter is typically seen in lodges with less insulation, making them more ideal for the summer.
A modern lodge is made typically in two parts which are then fixed together when on site. Manufacturers fit furniture within their models. However, this can easily be changed by yourself if you don't like the style used.
Consider Your Budget
Once you're sure that you want a lodge, there are a few things that you need to consider. Setting your budget should be the first one, as there is no point looking at something you can't afford. Manufacturers and models vary in price as do sites, so it pays to shop around. Sit down and think about what your needs are and where you can spend your money.
The initial price of the dwelling are not the only costs to remember. Annual site fees will need to be paid along with any maintenance, running costs (electric, gas, council tax etc), as well as insurance and equipment.
Location, Location, Location
A key reason why people invest in luxury lodges is to spend time in an area they love. As they are often used as holiday homes and weekend getaways, surroundings are just as important as the inside. Consider how far you are willing to travel and where in the country you enjoy being the most.
If you have a limited budget but love a popular location, it can be worth exploring surrounding areas to see if any other sites interest you. At Moss Bank Country Lodges we are situated within the picturesque Eden Valley and are a short drive away from the Lake District, Scottish Borders and Yorkshire Dales.
Space and Facilities
As there are several models available, there are plenty of options to choose from. Most lodges have between 2 and 3 bedrooms and all the necessities you need. You should think about what you need and what matters to you the most.
Some sites will have offers running, giving you the chance to add something extra to your home. While this shouldn't sway your decision, it's definitely something to think about.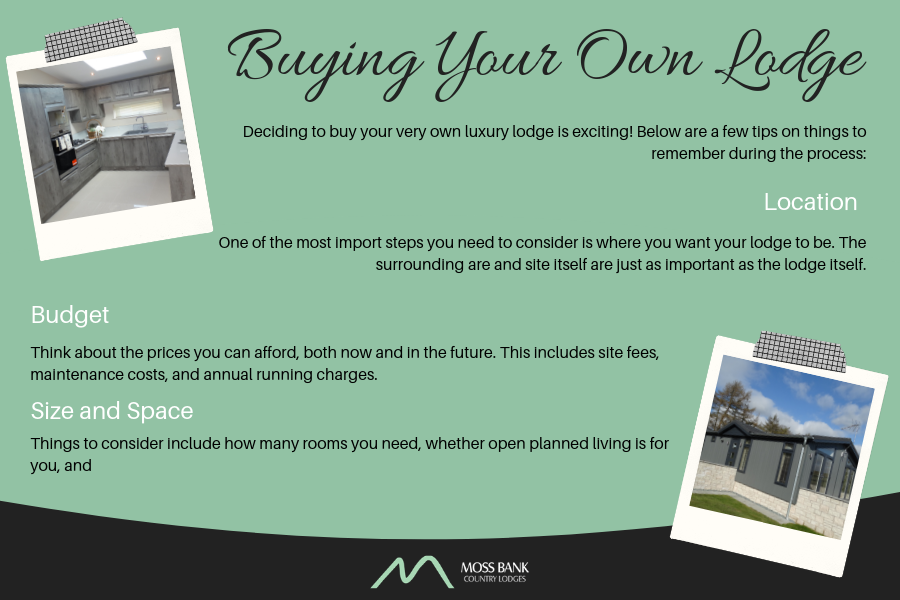 What Questions Should I Ask?
Once you've found a location and lodge that meet your needs, you may still need some guidance. To help you with the decision, there are a few questions that you can ask. These include:
Whether there are any restrictions in place
Memberships of professional bodies (including
Charges including Council Tax, maintenance etc
Opening and closing times of the site
If there are facilities on the park
Ground rent or other costs
The length of a lease if one is given
Whether pets/children are welcome
Find Out More
Here at Moss Bank we have several plots available for sale at our peaceful site in Eden Valley. For more details, please feel free to get in contact with our team.
We are also holding an open day weekend on the 6th and 7th of July. Find out more here.